---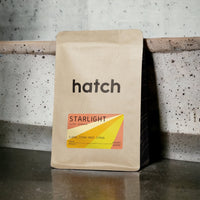 Starlight
We were heavy on the 'classic' profiles with our core coffees, so we decided to change up the structure a bit with Starlight.
Starlight is an adventurous profile, that is slightly more developed and thus offers itself for use as a vibrant espresso and filter coffee.

This iteration is a washed processed, Heirloom, from Chelbessa, Yirgacheffe, Ethiopia.

Origins: Ethiopia
Roast Profile: Medium Roast
Brew: Espresso and Filter (OMNI Roast)
Tasting Notes: Tangerine, Apricot, Honey
________________________
300g – WHOLE BEAN
"Legendary Things Arise from Fire!"™ — Phoenix Coffee Company Inc.
** Shipping: Coffee that is available is shipped as soon as possible (same or next business day); otherwise shipped after next roast cycle. We roast every Monday.
** Pickup Orders: Please wait until you receive a pickup ready email before heading over