---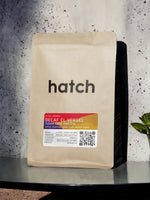 You shouldn't have to sacrifice your morning ritual because of bad decaf.. it should be delicious!

This decaffeinated offering is a Red and Yellow Caturra, from La Roma in Tolima, Colombia - part of El Vergel's Partner Series. 

The Sugar Cane Process originates in Colombia where sugar cane grows in abundance. As molasses is a key byproduct in sugar production it is ideal to be fermented to make ethanol alcohol due to its abundance. The ethanol is combined with acetic acid (vinegar), to create the solvent ethyl acetate (E.A.) which is a compound that naturally occurs in wine, beer, fruit, and vegetables. The coffee beans are steamed or soaked in water to help release caffeine from the seed structure. Afterwards the coffee undergoes an E.A. wash, which dissolves the caffeine. Finally, the seeds are cleaned with water again and then dried to a stable moisture level. We find this process results in a decaf coffee with a lovely, clean, and sweet flavour!